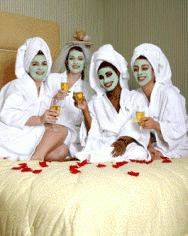 How would you like to take the magic of massage and pampering of spa treatments and share it with your friends and family, enjoying it together with all the fun of a party?

Imagine your living room full of your closest friends each laughing, visiting and feeling nurtured with professional spa treatments.
Pamper yourselves in style!! Along with the spa treatments, each guest recieves a rejuvenating hand and foot parrafin dip, a cleasing mud mask, and a party gift bag.
Spa parties are an excellent bonding experience and a great way to nurture friendships and build comradery. Whether it's for a bridal shower, a company get together, a family reunion or a girls night out, our spa parties are a memorable event for any occasion!
We cater to all ages from children to elders.
Our parties may include massages, facials, pedicures, manicures and detox footbaths. At some parties guests enjoy 4 or 5 treatments, at some 1 or 2 treatments. Each party is planned to meet your unique needs! Call us for a free party consult. A sample menu and pricing is below. Prices are subject to change based on the needs of your party.
Spa Party Menu
Therapeutic massage Swedish or Deep tissue
Neck, Shoulder and scalp massage
Raindrop Aromatherapy
Reiki Energy Healing
Hand and foot reflexology
Vitamin C Facial
Hydrating Facial
Pedicures
Manicures
Spa extras include Ionic detox foot baths, Body waxing, Foot facials and more!
A bonding experience, spa parties are great for Bridal showers, Birthdays, Girls night in, Woman's retreats, Couples, Mothers and daughters, Reunions or any occasion.
We accomadate parties as small as two and as large as eighteen. Spa parties start at just $95 for two main menu items.
A small travel fee may apply.
Call Heather Rasch at (907) 252- 4460 or Katie Gutknecht at (907) 252-5613
3577 Kenai Spurr Hwy, #216, Soldotna, Ak 99669
facebook.com/baremagicspaparties